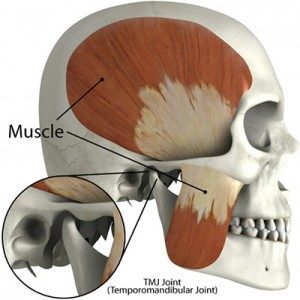 There is often confusion or uncertainty regarding what is TMJ and TMD. Temporomandibular Joint (TMJ) disorder is a medical condition that can be quite painful. It is a real disorder caused by disturbances in the action of the jaw.
The TMJ is located in front of your ears, connecting your jaw and skull and allows you to talk and chew. A TMJ disorder usually involves the disc but may also incorporate the bone of the joint. Those with TMJ may experience a "clicking or popping" sound in the jaw when opening and closing their mouth. Individuals with a TMJ disorder may experience a range of severe pain to no pain at all.
Often jaw problems are only a symptom, secondary to a greater problem affecting the body, much like a fever is secondary to the common flu.
In the absence of an acute injury to the head or face, the primary cause of jaw problems is frequently an unidentified sleep breathing issue, Sleep Apnea or Obstructive Sleep Apnea. Proper diagnosis and emphasis on origin rather than symptoms is key to successfully treating this disorder.
Temporomandibular Dysfunction (TMD) disorder includes the jaw joints, muscles, tendons, ligaments, and/or nerves. When the discs or joints are out of alignment or do not function properly, symptoms from mild to serve pain can result.
TMJ Symptoms and Pain can include
Primary Headaches: Migraines, Tension and Cluster
Pain the Jaw Joint
Facial, Neck or Back Pain
Jaw Popping or Clicking
Restricted Opening
Catching or Locking of Jaw
Pain when Chewing
Ear Pain or Ringing in the Ears
Who Treats TMJ?
A dentist who focuses their practice and treatments on TMJ disorder is uniquely qualified to effectively treat the cause of the pain and discomfort.
Dr. Busciglio is dedicated exclusively to the evaluation and treatment of TMJ disorder, craniofacial pain, and sleep apnea and breathing disorders. Our approach involves a comprehensive evaluation for proper diagnosis and non-invasive treatment therapies. We provide successful results using state of the art technology and research-based treatment in a caring and friendly environment. We recognize and treat each patient as a unique individual.